Updates
Meet us at these 5 exhibitions in autumn 2023
Meet us at these 5 exhibitions in autumn 2023
Visit our booth during one of these exhibitions and discover the latest developments from Dinnissen Process Technology. We can already reveal that we have not been sitting still!
Pack Expo - Las Vegas (United States)
11 - 13 September
This Expo is, in one word, exciting! Being surrounded by the latest packaging and processing solutions on the market - technology you didn't know existed. Every two years, PACK EXPO Las Vegas brings together packaging and processing solutions suppliers and end users from 40+ vertical industries. Exhibitors launch products, showcase their latest innovations, and problem-solve with customers. Attendees explore thousands of packaging and processing technologies on display and discover game-changing solutions to their packaging and processing challenges.
Meet us at our stand we share with SepSol: SU-7296
We're eager to tell you all about our innovations in packaging. Meet our experts at our shared stand with SepSol and discover which solutions suit your needs.
Free entry after online registration
Quickly and easily register for free entry using the code 26R92 by clicking the button below.
Foodtech Packtech - Auckland (New Zealand)
19 - 21 September
New Zealand's premier food and packaging technology trade show, introducing the New Zealand food manufacturing sector to new materials, processes, and technology from the world's best suppliers. Running strong for over 20 years this free to attend event brings industry professionals and decision makers together providing a forum for education, discussion and the sharing of knowledge and expertise, critical in the sustainability and growth of the industry.
Meet us at THE APS stand: Hall 3 Stand 3159
Our experts are thrilled to answer all your questions about our solutions in food manufacturing and processing and packaging. We would like to share you more about our expertise: system integration. Discover how we seamlessly implement our solutions into your process.
Free entry after online registration
Claim free entry by registering online by clicking the button below.
POWTECH Nürnberg (Germany)
26 - 28 September
POWTECH is the world's number one trade fair for powder, granule, and the handling and processing of fluids and liquids. As a driver of innovation in process engineering and analytics, it brings together international decision-makers from numerous industrial sectors in one place. From the pharmaceutical, chemical, food and cosmetics sectors to the glass, construction material, paper, and battery industries, it's where process technicians and engineers, production managers, scientists, and bulk solids experts find cutting-edge solutions for size reduction, screening, mixing, conveying, dosing, and granulating. The solution-driven, hands-on, and passionate participants come together on an equal footing to work out solutions and experience the event as a community.
Meet us at our stand: Hall 3, Stand 4-454
Meet us at POWTECH. We gladly share all our insights and solutions in processing solids. Learn more about our innovations. Our experts are also eager to tell you more about our system integration approach.
Free entry after online registration
Register for free entry using the code A501469 by clicking the button below.
SOLIDS Rotterdam (Netherlands)
4 - 5 October
Solids Rotterdam the networking and knowledge platform for all professionals from the Dutch process industry. At this trade fair, you discover the latest innovations and developments for the processing and transport of bulk goods. As in previous years, a well-stocked exhibition floor will again form the basis of Solids, simultaneously with Pumps & Valves and M+R. Solids Rotterdam is an accessible fair where you quickly meet the right partners.
Meet us at our stand: F110
Over 75 years, we have developed numerous solutions for processing solids. At Solids Rotterdam, we'll show you our latest innovations and well-known solutions in processing technology, like our Pegasus® Mixers.
Free entry after online registration
Claim free entry by registering online by clicking the button below.
AllPack Indonesia - Jakarta (Indonesia)
11 - 14 October
AllPack Indonesia is an international exhibition that shows the latest innovations in processing, packaging, automation, and handling for food & beverages, pharmaceuticals, and cosmetics. This trade fair provides the newest ideas, products, services, and technology to help your business stay one step ahead of your competitors.
Meet us at our stand: AC030
At AllPack Indonesia we'll show you all our solutions in process technology, handling, and packaging. Curious which solutions fits in your process? Our experts are thrilled to tell you how to improve your complete process.
Free entry after online registration
Claim free entry by registering online by clicking the button below.
Examples of our solutions
Bag-in-Box Filling System
This innovation allows bags to be placed in boxes fully automatically before filling the bags. The boxes can then be sealed, labeled and disposed of. With this addition to the production process, Dinnissen can automate its customers' processes even further.
See how the Bag-in-Box Filling System works in this video.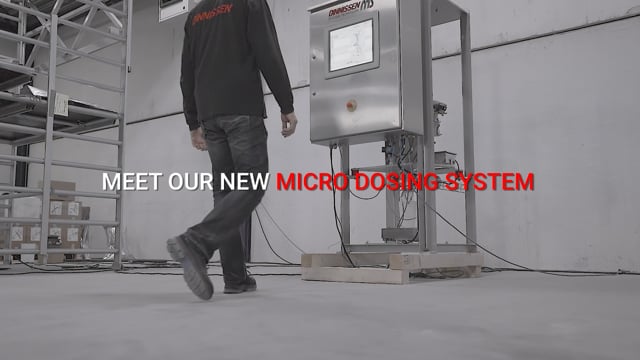 Micro Dosing System with an accuracy of 1 gram
Dinnissen's engineering department developed a Micro Dosing system with an accuracy of 1 gram. The application can be for batch weighing or for continuous weighing (weight loss) for processing vitamins, probiotics, premixes, minerals, milk powder, cocoa powder, creamers, sugar, whey powder, lactose, and infant formula.
In this video, you'll learn how our Micro Dosing System works.
Sampling System
Previously, many companies relied on manual sampling. In many cases, this method of sampling is labor-intensive, impractical, and unreliable. Dinnissen's Sampling System enables producers to take samples fully automatically according to the specified frequency and with a preset volume or weight. This does not require the intervention of an operator.
Erik Peeters tells you more about our Micro Dosing System in this video.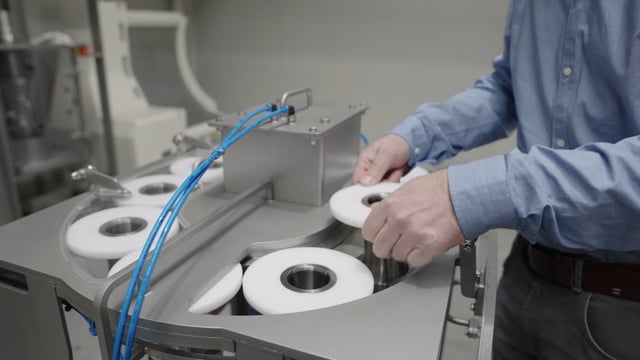 Our System Integration projects
Dinnissen has over 75 years of experience in the system integration of production processes. As a system integrator, we take a holistic view of the production facility as a whole. Together, we look for the best possible implementation, set-up, and system architecture. The goal: maximum output and efficiency and minimum downtime in the smallest possible space. We integrate all machines and systems for all process steps in one complete production line, in one system that is automated to the largest possible extent. From specification to service. From product intake to packaging. And from machines and systems to complete control and automation. In order to be able to guarantee a well-functioning and robust production line, we keep everything from engineering to production and from control to commissioning in-house.
Below are some of our latest System Integration Projects:
Mixing line for infant food
Product intake and pneumatic conveying
Weighing, dosing, and sifting
Pegasus® mixer
Dense phase vacuum conveying
Vibration conveying
Mixing line for coffee mixes
Product intake from Big Bags and bags
Lean phase vacuum conveying
Inline sifter and magnet
GIW receiving hopper
Dense phase vacuum transport
Closed loop milling system
Product intake and pneumatic conveying
Closed loop milling with N2-cooling
Sifting
Big Bag filling station
Automation
---
Want to keep up with our latest developments?
Subscribe to receive our newsletter:
Do you have a question about your process challenge?
75 years of experience in your sector as a system integrator
Everything in-house: engineering, production, testing, installation, control, and service
Always a tailor-made solution, for your complete process